People are abandoning their long commutes and trading in a separate work location for a home office. It might be that you plan to work from home a few days a week or work remotely going forward. Either way, you deserve a home office that makes you feel comfortable and increases productivity. This could mean renovating your office area to make it more functional for your needs.

This guide can help you explore the top home office renovations for working from home.
Create a room of your own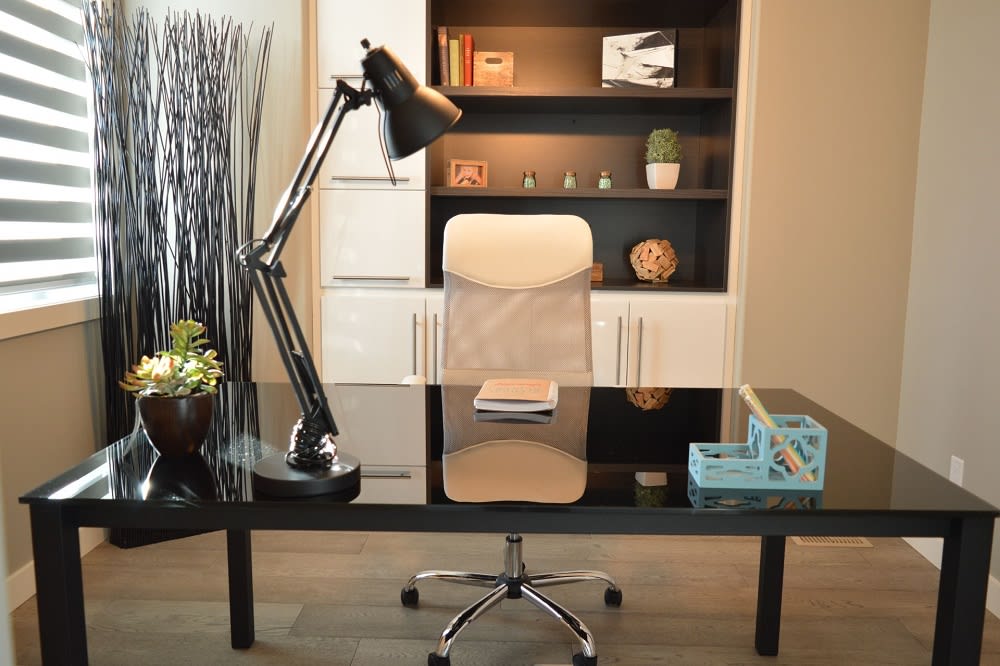 When you're working from home, you need a room of your own. You don't want to work in the dining room or a tiny space in your bedroom. You deserve to maintain a work-life balance, and it's harder when you don't have separate spaces.

It's important that you have a space where you can step away from the hustle and bustle of a busy home and concentrate on your work. This isn't going to happen without a dedicated home office.

You'll want to find a room or spare space and repurpose it. It might be you have a guest room that's rarely used, or your child's moved away from home. If you only use the formal dining room for holidays, it could make an ideal space to transform into a home office. Or, it might be time to add an addition to the home.
Add a door
One of the advantages of going to the office every day is the fact that it's a separate space, and your family and pets don't follow you there. It provides you with the environment to focus on your work and be more productive.

If you find a space in your home to use an office, and it doesn't come with a door, it's time to add one. A door is a great way to delineate the time you spend working and your free time.

When the door is closed, it sends a clear message to your children and significant other that you're working and shouldn't be disturbed. It's also a great way to keep pets from unexpectedly turning up in the middle of a video conference.

You might find that your family knocks on the door to see when you're going to finish for the day or take a break. Consider placing a whiteboard on the door and list the time of your next break on it. A door is a great way to keep your office separate from the chaos that can sometimes be home.
Consider built-in bookshelves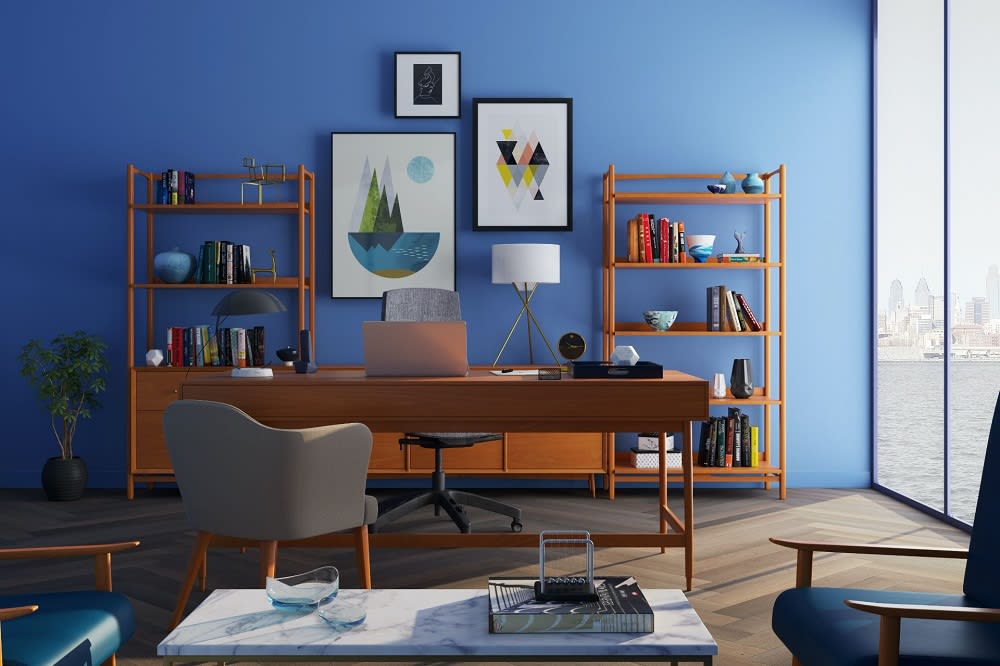 If you plan to work from home for an extended period of time or indefinitely, you're going to want storage space. The addition of
built-in bookshelves
is a wonderful option. You might be one of those handy people who can install them on your own or hire a contractor to build them.

Your new built-in bookcases can store books and other items you need around the office, such as your printer or office supplies. These shelves can also hold decorative items or products that your company sells to keep you focused on sales or marketing.

The idea of built-in bookshelves might not appeal to you, but you do need to solve the challenges of storage. To get the storage space you need, it's possible to affix cabinets to the wall. This vertical storage option leaves you floor space while providing you storage at the same time.

When you go to sell your home, you'll find that built-in bookshelves are an upgrade that attracts potential buyers and adds to the value of your home. You might also be able to write the cost of building the bookshelves off on your taxes as a business expense, especially if you only use them to store work-related items.
Invest in the right tech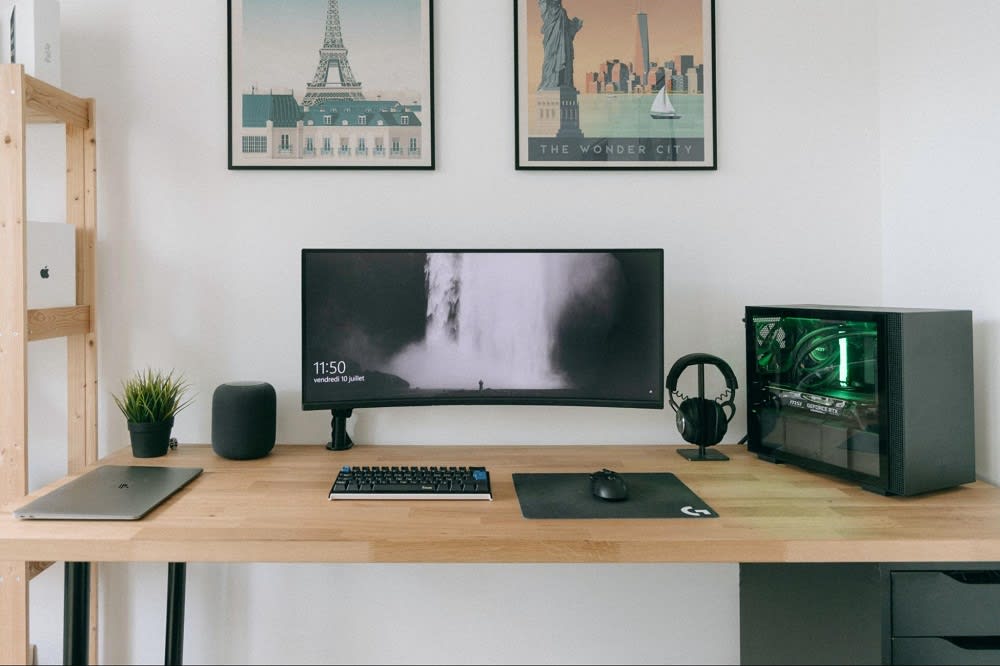 As you're renovating or creating your home office, you need to make sure you invest in the
right tech
for your needs. This can be anything from a landline to a desktop computer. You should have everything in your home office you need to effectively do your job.

Many companies send their remote employees a laptop to work on at home, but you might prefer a desktop. When you're renovating your home office, it's a great time to add the desktop you desire.

If you don't already have a printer, you might be running to the office to make copies or print important paperwork or paying an office supply store to print for you. It's time to invest in a printer for your home office. You want a model that prints, faxes, copies, and scans.

You might consider investing in video equipment if you find yourself taking part in frequent video conferences. This might include screens and audio equipment to ensure that you don't miss anything shown or said.
Bring your personality into your home office
Do you love baseball? Are polka dots your passion? While your office does need to be professional, you can still inject some of your personality into it.

You might be able to do this by painting a single wall a color you love or placing mementos on your shelves. With a home office that reflects your personality and hobbies, you'll find it's easier to relax and accomplish your tasks. You can have a professional home office without losing the things that make you an individual, and it'll only help to improve your work.
Make room for company
Depending on your available space and the industry you're in, you might have the occasional professional visit. It might be someone from your company's headquarters, a salesperson trying to solicit your business or a potential customer for your business.

If you have room, you might consider creating a separate seating area with a few chairs and a table in between. Limited space can be utilized as well even if all you have room for is a chair for your visitor.

The goal is to have a place for someone else to sit and interact with you in your home office. If you need to meet with a larger group and don't have space for everyone, you might need to move to another part of your home or an outside location.

Your home office might see frequent visitors, and you might consider investing in a coffee maker or mini refrigerator to offer guests a beverage and enjoy your favorite drink without going to the kitchen. You also need space to store cups and other items, such as sugar and creamers.
Add stylish office furniture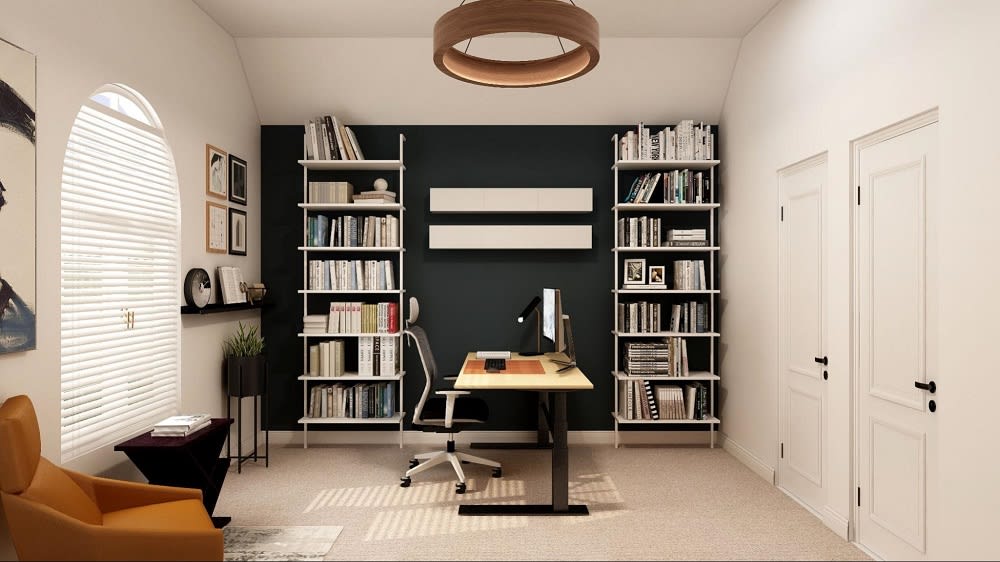 If you're working from home for a few days, it's okay to work on a card table and use a chair from the dining. However, when you're renovating a home office or creating one for the first time, it's a good idea to add stylish office furniture.

It all starts with a quality desk. This new desk should fit comfortably in the room. If you have a large space, a spacious desk could complement it. However, you want to avoid a larger desk if the space is small.

You want to find an office desk that offers the drawer space you need. It's even possible to find a desk with at least one drawer for hanging files, which you can use to better organize your space.

If you decided against the built-in shelves, you might consider adding a bookcase or filing cabinets to your home office space. As time goes by, you'll accumulate a lot of paperwork and other items that require storage space in your immediate office area.

You want to find an office chair that provides the comfort and support you need to spend long days sitting. If you have to choose between splurging on the desk or the chair, choose the chair and invest wisely.
The Jampolskys can help you find a new home with the home office space you need
If it turns out that renovations aren't enough to create the home office space you want and need, it might be time to shop for a larger house with more room. You can put a home office at the top of your must-have list and continue to look until you find the right space.