With its ease of walkability and vibrant downtown scene, Mill Valley is consistently at the top of the list when it comes to the best places to live in Marin County. If you're interested in Mill Valley houses for sale, you're probably already aware of its fun annual events, beautiful scenery, and diverse mix of residents. However, you may not know of the many wonderful restaurants that will be right around the corner from you should you choose to buy some property in Mill Valley. If you plan to be in the area to look at Mill Valley homes for sale, there's no better way to get a feel for the place than to eat at one of these delicious local restaurants.
A bustling neighborhood hotspot since it opened its doors in 2005, Bungalow 44 offers both cozy dining room seating and a heated patio where you can gather to sip on a craft cocktail with friends or enjoy a satisfying meal with your significant other. If you're in the area to look at Mill Valley homes for sale, make a plan to head over to this local favorite when they open at 5 p.m. nightly. If it's during the week, you can enjoy their one dollar oyster hour until 6 pm, then dine on their famous Kickin' Fried Chicken, a Bungalow Burger with fries, or a filet mignon with some grilled broccolini or mashed Yukon gold potatoes on the side. If you're in town with your family, note that Bungalow 44 is very kid-friendly and has an affordable menu of kid favorites like hot dogs and fried chicken.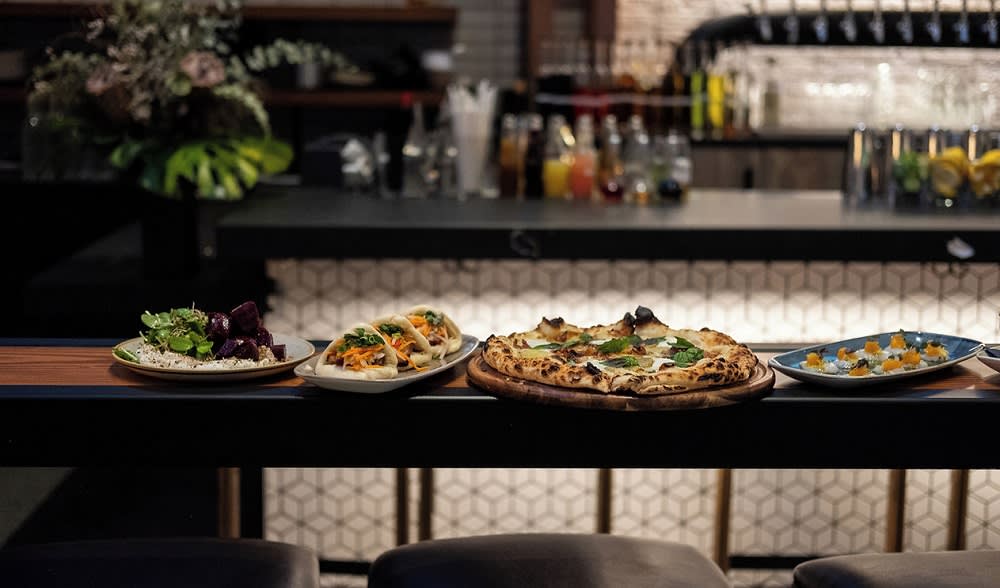 Photo courtesy of Floodwater
There's a dining experience for everyone at Floodwater! Concentrate on conversation rather than entertainment in the front room that has no TVs, have a cozy dinner with your bestie in the back room, or enjoy a spirited outing with family on the patio with multiple fire pits for chilly Marin County nights. If you're looking for good food, you'll have no lack of options here. Start with some pork belly or portobello steamed buns, then move on to a Nashville hot chicken sandwich, vegetarian shepherd's pie, or Margherita pizza. If you're in the mood for a drink, Floodwater also has plenty of options to choose from. Craft cocktails like the Barrel Old Fashioned and Blackberry Crush are popular, as is their extensive wine and tap list.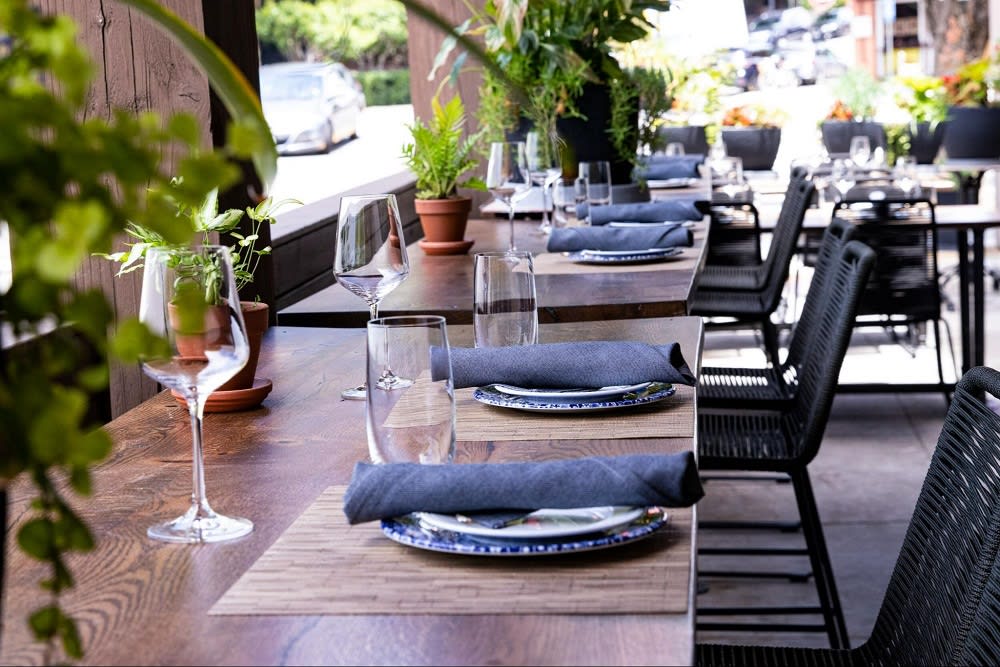 Photo courtesy of Gravity Tavern
Mill Valley residents who love unique, sophisticated cuisine speak highly of Gravity Tavern, an eatery named after the Mt. Tam gravity car. Featuring a brunch menu with standards like eggs Benedict, as well as out-of-the-box offerings like champagne and caviar French omelets and Dutch baby pancakes, this is the perfect place to start out your day. If the mid-day meal is what you're looking for, you can enjoy Maine lobster rolls, a green goddess salad, or farmers market vegetable and mushroom risotto, while the dinner menu features everything from red wine braised short ribs to roasted sea bass with sides of truffle mac and cheese, sauteed wild mushrooms, and creamed savoy spinach. As the name implies, Gravity Tavern also has a large selection of drinks, including cocktails such as the Blood Orange Negroni and the Gravity Grade Old Fashioned, glasses and carafes of wine, and a list of draft, bottled, and canned beers.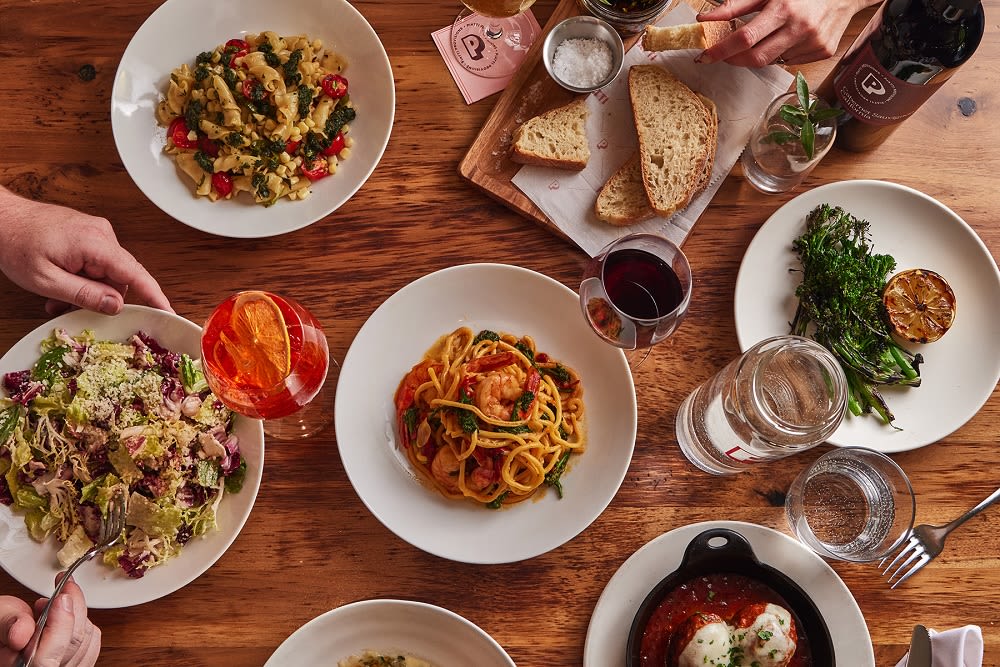 Photo courtesy of Piatti Ristorante and Bar
If you want a place where you can linger over expertly-prepared Italian food, Piatti definitely needs to be on your list. Whether you're in the area to look at Mill Valley houses for sale or you're just here for vacation, you'll be able to relax in the fireplace lounge and enjoy your company — whether that's your significant other, a friend, or your realtor! Open for lunch and dinner Tuesday through Saturday, Piatti is the place to go for authentic pizzas, ravioli, rigatoni, roasted garlic rosemary focaccia, and saffron spaghetti. Pair your meal with a Paloma Italiana, a glass of sparkling wine, or a bottle of hearty Italian red.
Whether you opt to eat in the dining room or on the patio, you won't find a better place to gather for a meal than at Robata. Many of the restaurant's dishes are cooked over an open fire and served in portions that are perfect for sharing with a group. Perfect shareables include the beef kushiyaki (skewered grilled beef with teriyaki sauce and scallions), bite-sized crispy chicken tatsuta, and ika fry (battered and fried squid with wasabi tartar sauce). Eating by yourself when you're in town to look at Mill Valley homes for sale? No worries. You can order from the many sashimis, sushi, makimono, or entrée options. The Japanese steak, mahi-mahi battayaki, and beef sukiyaki all come highly recommended, as do the Robata Roll and the 49er Roll.
Opened inside the Sweetwater Music Hall in 2021, The Rock & Rye has a seasonal menu that is inspired by both New Orleans and South American cuisines. Open for lunch, and through the last seating for the venue's events, this fun restaurant has an incredibly diverse menu that includes chicken and shrimp gumbo, marinated seafood lettuce wraps, and polenta and stewed forest mushrooms with wilted spinach and amarillo sauce. Rock & Rye also has an impressive selection of spirits that can be used to make unique and tasty cocktails. This is the perfect place to go for a bite before enjoying a night of entertainment.
Search for Mill Valley houses for sale
Mill Valley is the perfect place for young professionals, families, and those looking for low-key retirement options to settle. When you're in town to look at Mill Valley houses for sale, make sure you check out the restaurants on this list to get a taste of the local flavor and to meet some of your soon-to-be neighbors. Haven't yet found an agent to help you with your search?
Contact The Jampolskys
for assistance.

*Header photo courtesy of Bungalow 44